Gentle and
Credible Method
Our projects are gently created by artisan's hands with credible methods.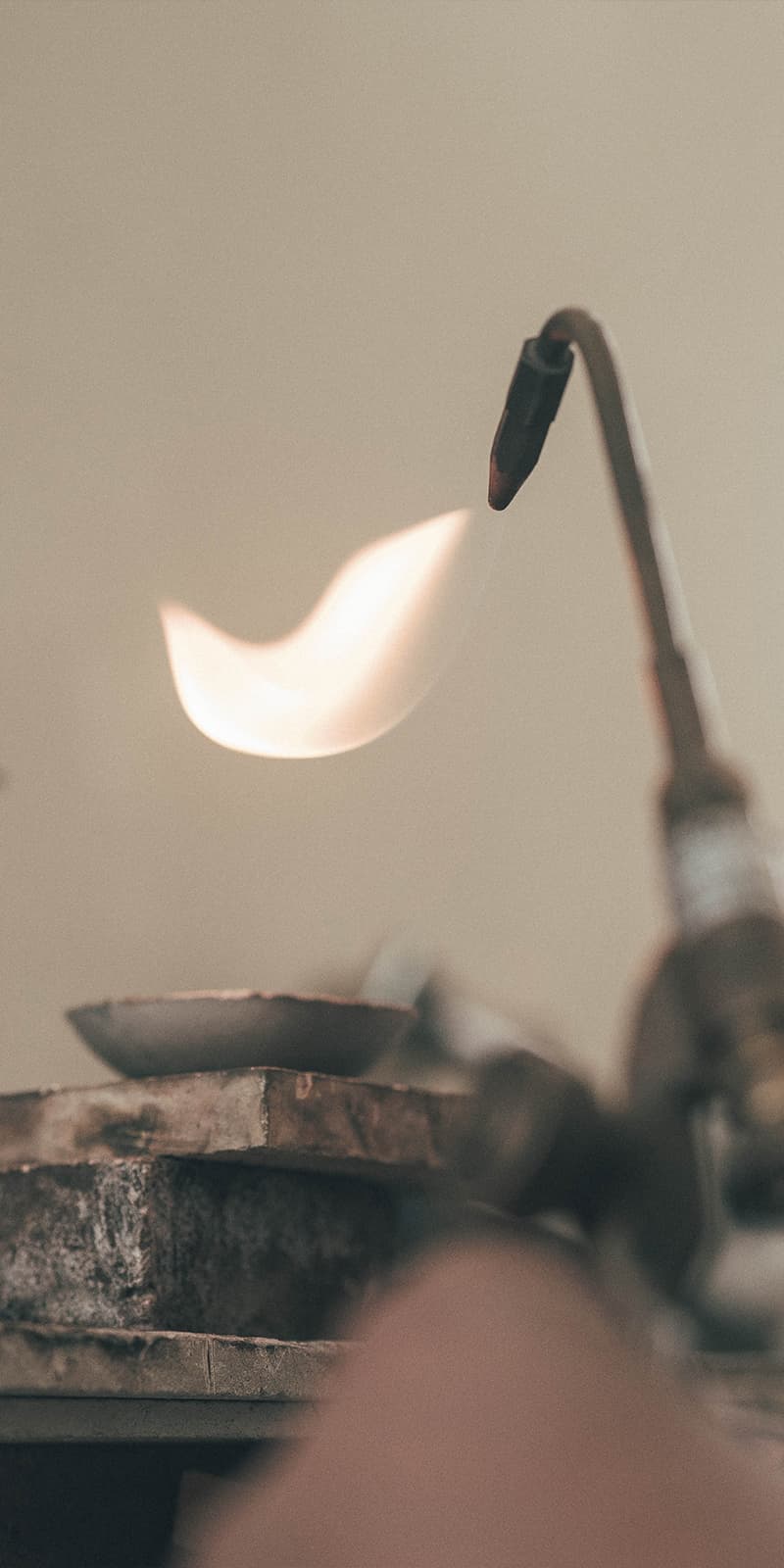 Philosophy
身につけるもの、使うもの、飾るもの
「いいな」と思うものを作る為に

手を通してイメージを形にする

その精度をどこまで高められるか日々手を動かし
素材と向き合う事でしか得られない
感覚を積み上げて

偶然うまれたアイデアを溜めていく
その先に「いいな」が存在していると思うから。

先人の作り手も似た事を考えていたのではないかと
色褪せないものを見る度に感じる

私たちなりに歩を進め、考え抜いた独自の方法で
ものと向き合う。そこに繋がっていると信じて。

納得のいくまで手をうごかす
私たちのものづくりに対する考え方です。
Things to wear, things to use, things to decorate
To create what we think "I like".

I give shape to my image through my hands.

I work with my hands day by day to see
how far I can improve the precision of my work.
I accumulate sensations that can only be obtained
by facing the materials.

Accumulating ideas that arise by chance
I believe that "I like it" exists beyond that.

I think that our predecessors must have thought
in a similar way.
Every time I see something that will never fade away,
I feel it.

We face things in our own unique way
We face things in our own unique and thoughtful way.
Believing that this is where we are connected.

We wriggle our hands until we are satisfied
It is our way of thinking about manufacturing.
What We Do
効率化、分業化が進み、一工程に特化した技術が磨かれそれぞれの技術を持ち寄って出来たコミュニティーで、「モノ」が作られていく。

ジュエリー製作から始まり金属加工、陶磁器、縫製品、木製品など、様々なものを手がけ、現場を見てきた事で、「職人目線で、ものづくりの技術を横断させて創る」という事に可能性を感じました。

企画から製品へと形にしていく道筋は思っていたよりも選択肢がある。という事に気付けたおかげで新たな手法を見出せるようになりました。一見、関わりのない分野だと思っていた作り手との協業。そんな経験も積み上がり、私たちの手法は、少しずつ形作られてきたように思います。そんな活動から新たな仕事が生まれたら、ものづくりの業界へ少しばかり貢献出来るのではないかと思っています。

手仕事を中心に仕事をされている方々が、このままだと効率のよいものしか作れない世の中になってしまう、と危惧していました。そんな状況を少しでも変えようと活動されている人達を見ると、自然と私たちも考え行動していきたいと思うのです。
"Things" will be created in a community where efficiency and division of labor are progressing, technologies specialized for one process are refined, and each technology is brought together.

Starting from jewelry production, we have worked on various things such as metal processing, ceramics, sewn products, wood products, etc., and by seeing the site, I felt the possibility of "creating across manufacturing techniques from a craftsman's perspective." I did.

There are more options than I expected on the path from planning to product. Thanks to noticing that, I have come to find a new method. Collaboration with a creator who seemed to be an unrelated field at first glance. With such experience, I think our method has been gradually formed. If a new job is born from such activities, I think that I can contribute a little to the manufacturing industry.

I was afraid that people who work mainly on handicrafts would end up in a world where only efficient products could be made. When I see people who are trying to change that situation even a little, we naturally want to think and act.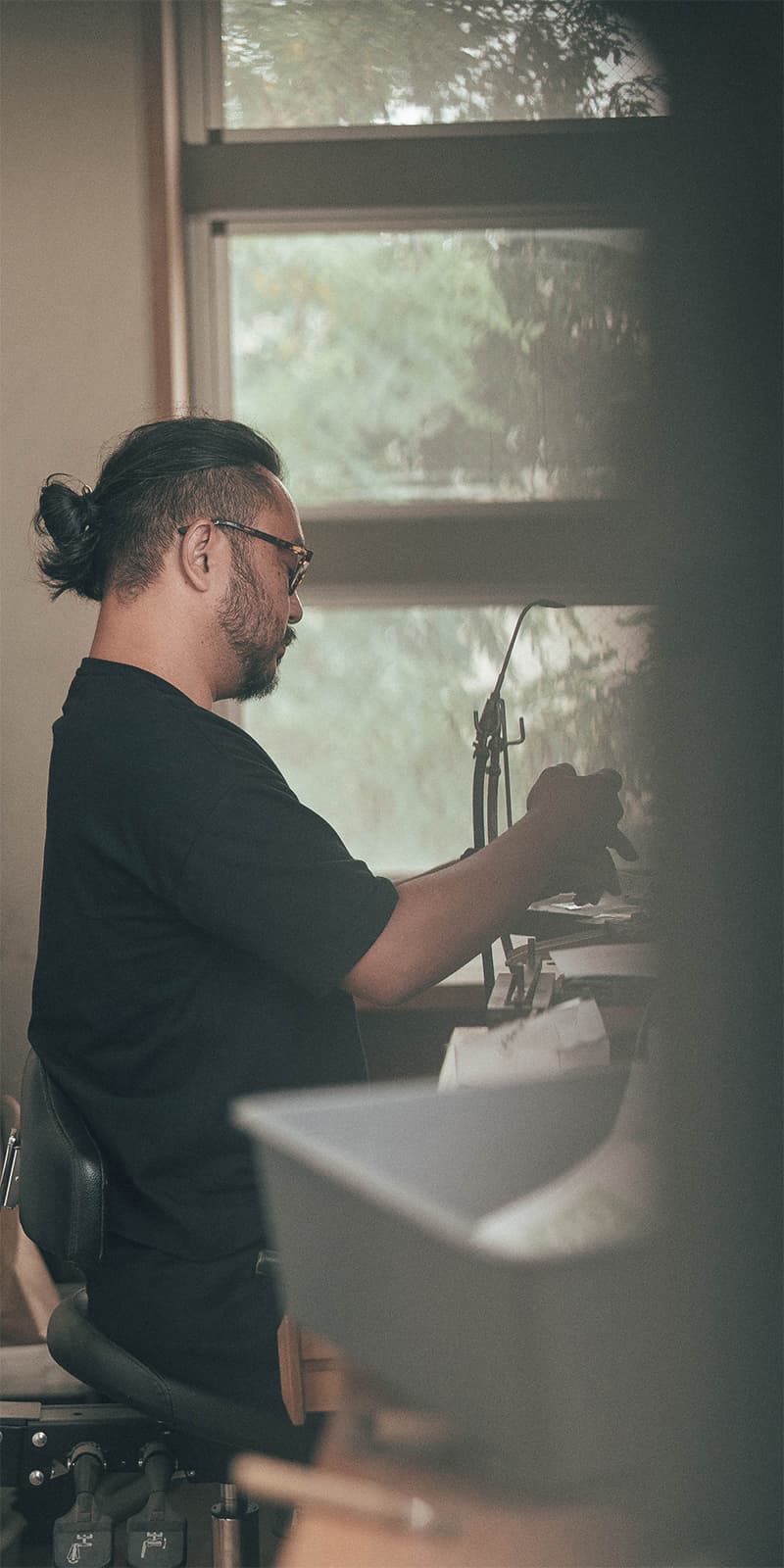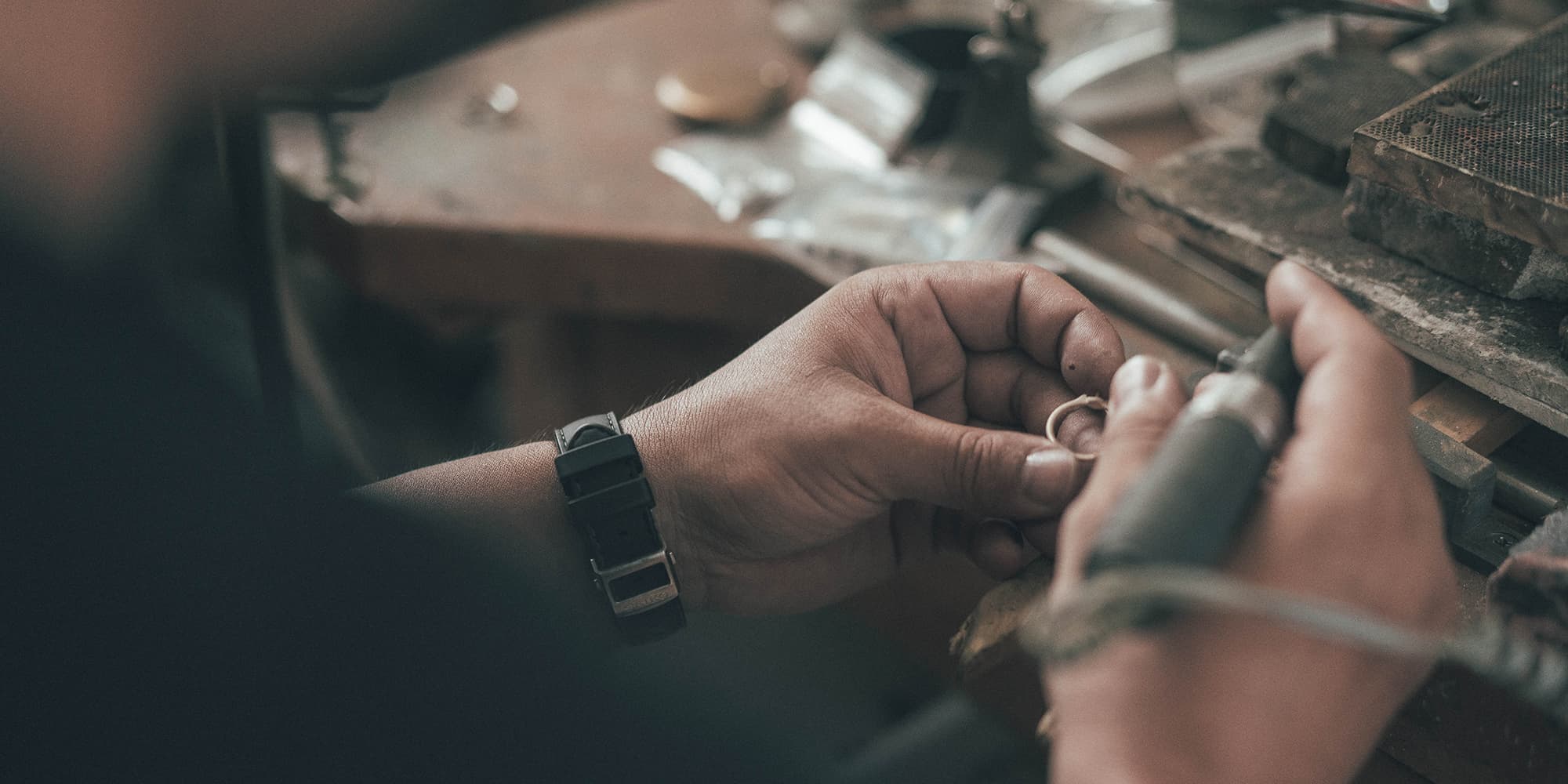 プルーフオブギルドは、2002年にジュエリーとフラワーのオーダーメイドショップとしてスタートしました。作り手や伝えてが集まった場が[GUILD]の語源となったように、私たちなりの「場」を創っていけるよう活動してきました。2021年3月にオープンしたショップ「SUI by PROOF OF GUILD」は、新たな表現の場として、オリジナルのアイテムを中心に、実験的に作ったものや、製作に関わって下さった作り手や背景を伝えていくスペース。店舗2Fは、ジュエリーのオーダーメイドショップと工房を併設し、ブライダルリングを中心に、ジュエリーリフォームなどを手がけています。
Proof of Guild started in 2002 as a bespoke jewelry and flower shop. Just as the place where creators and tellers gathered became the etymology of [GUILD], we have been working to create our own "place". The shop "SUI by PROOF OF GUILD", which opened in March 2021, is a place for new expression, focusing on original items, experimentally made ones, and the creators and backgrounds involved in the production. A space to convey. The 2nd floor of the store has a custom-made jewelry shop and a workshop, and is engaged in jewelry remodeling, mainly bridal rings.
社名
株式会社 PROOF OF GUILD
創業
2002.4.15
本社
愛知県名古屋市守山区翠松園1-703
Tel / FAX
+81-52-794-8501
Mail
代表
竹内 稔
事業内容
ジュエリー、結婚指輪、婚約指輪のオーダーメイドなど、手仕事を中心としたアイテムの企画・製造・販売